By Lambert Strether of Corrente.
Patient readers, as Yves approaches escape velocity from New York this week, I will be taking on more posting duties, and so Water Cooler may appear at odd times, although today will be on-time (and, as I play catch-up, mostly about the biosphere and politics, because the debates are approaching). –lambert
Politics
"But what is government itself, but the greatest of all reflections on human nature?" –James Madison, Federalist 51
"They had one weapon left and both knew it: treachery." –Frank Herbert, Dune
"2020 Democratic Presidential Nomination" [RealClearPolitics] (average of five polls). As of June 18: Biden up 32.1% (31.9%) and Sanders jumps to 16.5% (15.0% ). Warren up 12.4% (12.1%), Buttigieg down 7.0% (7.1%), others Brownian motion, though maybe not Harris, who just pulled even with Buttigieg. Of course, it's absurd to track minute fluctuations at this point.
* * *
2020
Biden (D)(1): "Why Did Obama Pick Biden As His Veep in the First Place?" [New York Magazine]. "Team Obama was looking at Biden strictly as a veep, and perhaps as someone who could help out with congressional relations and international matters — but not as any sort of heir apparent or successor as leader and shaper of the Democratic Party. The assumption that Biden would be too old to run for president in 2016 is rather interesting now that he's running four years later. But it does help explain why there was little apparent worry over Biden's touchy history on racial issues. The Obama–Biden ticket had more than enough biracial bona fides to cover a multitude of old sins and associations." • Oopsie.

Buttigieg (D)(1): "Tensions boil over at Buttigieg town hall after recent violence" [The Hill]. "As a moderator asked the audience to be respectful of Buttigieg's schedule, a man in the audience yelled back, 'You gotta get back to South Carolina like you was yesterday?'" • Ouch.

Sanders (D)(1): "Jane Sanders and the Messy Demise of a Vermont College" [New York Times]. • As readers know, I have little sympathy for college administrators. That said, since the FBI apparently hasn't felt the need to talk to either Sanders, isn't a nothingburger?

Sanders (D)(2): Last week's controversy, but debate fodder:

"I think to be singing the praises of people who were vicious segregationists is not something that anybody should do."

White House hopeful Sen. Bernie Sanders doubles down on call for rival Joe Biden to apologize for remarks he made on working with segregationist senators. pic.twitter.com/Q1YqrMsI8H

— Cuomo Prime Time (@CuomoPrimeTime) June 20, 2019

Sanders (D)(3): Owning The Blob," and more debate fodder:

"He was just doing a limited strike" says the 'Face the nation' host

"Oh…just a limited strike!" @BernieSanders quipped, "Oh, I'm sorry, I just didn't know that it's okay to simply attack another country with bombs. That's a limited strike? That's an act of warfare," pic.twitter.com/JgbLkkakX7

— Currie Dobson (@Ventuckyspaz) June 23, 2019

Sanders (D)(4): "The Bernie Sanders paradox" [Michael Tracey, The Spectator]. "In 1988, for instance, he was one of the vanishingly few white elected officials of any prominence to endorse the presidential candidacy of Jesse Jackson, who had also been regarded in many quarters of the party as an inconvenient 'interloper.' I asked Sanders for his recollection of that time period after an event this Saturday in Columbia, S.C. 'My memory is that Jesse Jackson has played an extraordinarily important role in the fight for justice in this country, and I think he doesn't get the credit that he deserved,' Sanders told me Jackson was widely regarded as a factional black candidate whose principal goal was to foment division within the party. So incensed were some of Sanders's constituents by his support for Jackson that one of them actually physically attacked him. " • Thank gawd for President Dukakis, is all I can say! Oh, wait…

Sanders (D)(5): Sanders campaign manager:

Bernie is apparently an "existential threat" to some in the party

The concern isn't about him losing. It's about him winning…and what that winning would produce in changes to society https://t.co/AIFkjhI0Lt

— Faiz (@fshakir) June 21, 2019

More debate fodder.

Warren (D)(1): "Elizabeth Warren thinks corruption is why the US hasn't acted on climate change" [Vox]. "Warren isn't making climate change the centerpiece of her agenda, nor placing it in an 'environmental' silo. Instead, she is using different parts of her agenda to address the climate crisis. She is making the policy case that climate change is a national security concern, an economic threat and opportunity, and the consequence of a violation of public trust. That's because Warren doesn't see climate change itself as the central problem; rather, the problem is money in politics. 'The reason the United States is where it is on climate is corruption,' Chris Hayden, a spokesperson for the Warren campaign, told Vox. 'We need to rein in the economic and political power of Big Oil to get serious about addressing climate change — which is why the first thing Elizabeth would do as President is pass her anti-corruption bill which would end lobbying as we know it.'"• Hmm. Capital would still seek to grow exponentially, were it pure as the driven snow (if any).

Warren (D)(2): "Elizabeth Warren: 'I Created Occupy Wall Street'" [Daily Beast]. From 2017. The headline exaggerates. "Elizabeth Warren is running for office in the most high-profile race in the country not involving Barack Obama. It's a position that calls for some tact. So what does she think about the Occupy Wall Street protests that are roiling the country? 'I created much of the intellectual foundation for what they do,' she says. 'I support what they do.'" • I think the anarchist contingent would snort on reading the headline. That said, this is an interesting story from the time before the scrutiny of Warren's bio really heated up.

"The Top Tier Versus Trump" [Cook Political Report]. "Two weeks ago, this column took a stab at winnowing the 23-candidate Democratic field of presidential candidates down to a plausible Elite Eight and Final Four. The suggested Elite Eight was made up of former Vice President Joe Biden; South Bend, Indiana Mayor Pete Buttigieg; Sens. Cory Booker, Kamala Harris, Bernie Sanders, Elizabeth Warren, and Amy Klobuchar; and former Rep. Beto O'Rourke. It then speculated that the Final Four might look like Biden, Buttigieg, Harris, and either Sanders or Warren in the left lane. Obviously with eight months to go before the first ballots are cast, much can and undoubtedly will change, but this lineup gives us a fairly good baseline from which to begin."

Les tricoteuses:

The move by Ravelry, a popular knitting site, to ban support of President Trump drew both criticism and applause. But "knitting has always been political," said the editor of a knitting magazine. https://t.co/KdrBqz1tEX

— The New York Times (@nytimes) June 25, 2019

I think this is important. Not only are there a lot of knitters out there, knitting at a high level is an arduous mental activity (knitters are "smart").
Debates
"As first debate nears, Democratic National Committee is still wrestling with demons of 2016" [Los Angeles Times]. "'It's a never-ending push and pull between the outsiders and the party establishment,' said Stephen Medvic, a professor of government at Franklin & Marshall College in Pennsylvania. 'And the party has to walk a fine line. There are no more smoke-filled rooms. It's got to figure out how to maintain some modicum of control and still be open and democratic.'" • The DNC's lawyer said that smoke-filled rooms were AOK. So.
Realignment and Legitimacy
Don't be evil:

Google's June filing for political donations is up, and surprisingly, the $203K the company donated to politicians substantially aligns with its stated values of inclusion and respect for employees from all backgrounds.

LOL, I'm just messing with you. Let's go through the worst:

— Pinboard (@Pinboard) June 20, 2019

I am here for the DSA Cat Caucus:

What's that? It's Sunday?

That means it's #ClimateCatChat, a weekly cat chat about ecosocialism and the #GreenNewDeal! 🌾 pic.twitter.com/1r780gcIoZ

— DSA Cat Caucus😻🌹 (@DSACatCaucus) June 23, 2019
Stats Watch
Chicago Fed National Activity Index, May 2019: "A big reversal for the production component made for big improvement in the national activity index" [Econoday]. "The gain for production in this report may already be distant history for monetary policy makers given Jerome Powell's warning last week that strength in manufacturing, due to slowing global trade and softening business sentiment, may now be in question."
Dallas Fed Manufacturing Survey, June 2019: "Texas manufacturing activity slowed more than expected in June" [Econoday]. "Today's survey from Dallas joins other regional reports pointing to emerging trouble in manufacturing this month and will likely strengthen expectations for a rate cut at the July FOMC meeting.""
Retail: "Toys 'R' Us, Back From the Dead, Will Open U.S. Stores in 2019" [Bloomberg]. "About a year after shuttering U.S. operations, the remnant of the defunct toy chain is set to return this holiday season by opening about a half dozen U.S. stores and an e-commerce site…. It remains to be seen how much of a boost the retailer's comeback will provide the toy industry, including giants such as Hasbro Inc. and Mattel Inc. The original Toys 'R' Us, the only national toy chain, left a huge hole when it went under. It had been generating about $7 billion in sales a year in the U.S. through more than 700 locations, including the Babies 'R' Us brand." • And yet private equity managed to suck it dry and kill it….
Tech: "Amazon gets U.S. patent to use delivery drones for surveillance service" [Reuters]. "Amazon.com Inc is exploring using drones not just to deliver packages but also to provide surveillance as a service to its customers, according to a patent granted by the United States Patent and Trademark Office…. The delivery drones can be used to record video of consented user's property to gather data that can be analyzed to look out, say for example, a broken window, or a fire or if a garage door was left open during the day, the patent described." • "Consented." Of course, of course.
Tech: "First Spotify, now Slack: Wall Street may be losing its iron grip on Silicon Valley" [Recode]. "With Slack's apparently successful 'direct listing' on Thursday, Silicon Valley scored another win in its tug-of-war with Wall Street and raised more questions about whether tech companies need the traditional support of big banks… If you want to see Wall Street have less control over the American economy, that's a good thing. But if you're worried about hubristic tech companies discarding some of the traditional guardrails that have been behind a decade-long bull run in the stock market — and centuries of IPOs — that's a bad thing." • Yes, and more hubristic than big banks!
Concentration: "Comcast broke consumer protection law nearly half a million times, Washington state judge rules" [Inquirer]. "Comcast must pay a $9.1 million fine and refund thousands of customers for breaking Washington state's consumer protection law more than 445,000 times, a judge ruled last week…. Comcast charged $5.99 per month for the plan that allowed customers to avoid charges for certain service visits. Between 2011 and mid-2016, Comcast earned more than $85 million in gross revenue from Washington alone in monthly fees for the protection plan, according to the Washington State Attorney General's Office. More than a third of Washington customers enrolled in the plan by phone were signed up without consent between July 1, 2014, and June 30, 2016, the judge found." • Who's running Comcast? Wells Fargo expats?
Rapture Index: Closes unchanged [Rapture Ready]. Record High, October 10, 2016: 189. Current: 181. Remember that bringing on the rapture is a good thing.
The Biosphere
"How to design a Green New Deal that really works, for every industry in the U.S." [Fast Company]. A series. "Though [the AOC/Markey] resolution lacks specific mandates, the concept of a Green New Deal is firm in its goal of achieving net-zero carbon emissions in the next decade, creating millions of high-paying jobs for all, providing equal access to necessities like affordable housing and healthy food, and promoting justice for the historically marginalized people in the transition to a new economy. 'Climate change is the greatest challenge we face,' Markey tells Fast Company. 'Every industry and every business will be compelled to respond.'" • You may not be interested in climate change, but climate change is interested in you….
"Trajectories of the Earth System in the Anthropocene" [PNAS]. From 2018 and linked to when published, but still highly germane. "The knowledge that human activity now rivals geological forces in influencing the trajectory of the Earth System has important implications for both Earth System science and societal decision making. While recognizing that different societies around the world have contributed differently and unequally to pressures on the Earth System and will have varied capabilities to alter future trajectories (4), the sum total of human impacts on the system needs to be taken into account for analyzing future trajectories of the Earth System."
"The global transition to clean energy, explained in 12 charts" [David Roberts, Vox]. Summary of the "Renewables Global Status Report." "[A] few background facts. First, we're still moving in the wrong direction. Global carbon emissions aren't falling fast enough. In fact, they aren't falling at all; they were up 1.7 percent in 2018. Second, we're still pushing in the wrong direction. Globally, subsidies to fossil fuels were up 11 percent between 2016 and 2017, reaching $300 billion a year. And third, the effort to clean up is flagging. Total investment in renewable energy (not including hydropower) was $288.9 billion in 2018 — less than fossil fuel subsidies and an 11 percent decrease from 2017. This is all bad news. The public seems to have the impression that while things are bad, they are finally accelerating toward something better. It's not true. Collectively, we haven't even succeeded in reversing direction yet. Despite all the progress described below, we're still struggling to get ahold of the emergency brake."
"The poisons released by melting Arctic ice" [BBC]. "The permafrost – up until now, permanently frozen land and soil – is thawing out, and revealing its hidden secrets. Alongside Pleistocene fossils are massive carbon and methane emissions, toxic mercury, and ancient diseases…. The organic-rich permafrost holds an estimated 1,500 billion tonnes of carbon…. The rapid change in North American permafrost is equally alarming. "In some places in the Alaskan Arctic, you fly over a swiss cheese of land and lakes formed by ground collapse," says Natali, whose fieldwork has moved from Siberia to Alaska. "Water that was close to the surface now becomes a pond." Many of these ponds are bubbling with methane, as microbes suddenly find themselves with a feast of ancient organic matter to munch on, releasing methane as a by-product. "We often walk across the lakes because it's so shallow and it's like you're in a hot tub in some places, there is so much bubbling," says [Sue Natali of The Woods Hole Research Center, Massachusetts]." • "Bubbling"… This is a must-read, more important than the clickbait headline.
"Don't Be Fooled by Fossil Fuel Companies' Green Exterior" [Kate Aronoff, Rolling Stone]. "[A]fter decades of spreading disinformation, fossil fuel interests the world are shifting into a different strategy: carving out a greener, friendlier image for themselves and appearing to embrace a progressive climate stance — as they continue to try to shape legislation to their benefit. The London-based think tank InfluenceMap found the world's five largest oil companies have spent $1 billion rebranding themselves as 'green' since the Paris Agreement, all the while pushing aggressively to access new supplies of oil and undermine climate rules and regulations." • Oy. A billion is real money, even today.
"Solar, Wind, Batteries To Attract $10 Trillion to 2050, But Curbing Emissions Long-Term Will Require Other Technologies Too" [Bloomberg]. "Deep declines in wind, solar and battery technology costs will result in a grid nearly half-powered by the two fast-growing renewable energy sources by 2050, according to the latest projections from BloombergNEF (BNEF). In its New Energy Outlook 2019 (NEO), BNEF sees these technologies ensuring that – at least until 2030 – the power sector contributes its share toward keeping global temperatures from rising more than 2 degrees Celsius." • If we have the minerals…
"Palm Oil Importers Won't Meet Zero Deforestation Goals by 2020" [Bloomberg]. "European palm oil importers are unlikely to be able to ensure that the products they sell are 'deforestation-free' by the self-imposed goal of 2020, according to analysis by the Palm Oil Transparency Coalition… While about 98% of the palm oil imported into Europe by the survey respondents can be traced to the mill it came from, thanks to efforts by producers, only about a third can be traced to the plantation it came from, the report said. That makes it hard to determine if third-party suppliers had destroyed forests to grow palm trees or if they used child or forced labor at some point in the supply chain." • And you can bet that local oligarchs have in both these aspects of "third-party supply."
"The Trade War's Latest Casualty: Trees" [Bloomberg]. "Shifting soybean purchases from the U.S. to other countries such as Brazil, which since 2011 has been China's largest supplier, raises a different threat: rampant deforestation…. [And] Chinese companies have historically paid less mind to the environmental costs of local agriculture than reputation-conscious multinationals…. Deforestation accounts for as much as 10% of global greenhouse gas emissions. Meanwhile, thanks to their ability to capture carbon dioxide, restoring forests could provide as much as 30% of the mitigation required to prevent catastrophic climate change." • Good to see Bloomberg has put forests on the list of topics to cover.
"Mess with a Texas pipeline now and you could end up a felon" [Grist]. "Damaging a pipeline in the Lone Star State could get you a decade in prison and $10,000 in fines starting in September. Republican Governor Greg Abbott signed the Critical Infrastructure Protection Act into law on Friday, further criminalizing protests of pipelines, oil tanks, and drilling sites. It makes knowingly damaging them a third-degree felony, on par with indecent exposure to a child. Trespassing with the 'intent to damage' or 'impairing or interrupting operations' will be punishable with up to two years in prison."
"The Sand Sentinel Program" [Public Lab]. "The Sand Sentinel Program is aimed at creating an easier way for people to collect and file reports on suspected permit violations by frac sand mining companies." • Needs a map. Get in the way of anything that makes it easier to get carbon out of the ground!
The 420
"Special report: Weed, Inc." [Axios]. "Venture capitalists are investing record sums in marijuana startups, growing twice as fast as 2018…. These investments are a bet that marijuana will be legalized in the U.S. at the federal level, as it has been in Canada…. There's a catch: Legalization would expand the total addressable market, or TAM, for growers, but could render the related startups obsolete. For example, why would growers need cannabis-specific transportation companies if FedEx began working with them? Why would dispensaries need specialized financial facilitators, once banks could handle their accounts? And why would dispensaries or specialty retailers be needed at all, once neighborhood pharmacies and gas stations could handle the stuff?"
"Legal Weed's A Growing Danger To Dogs, So Keep Your Canine Out Of Your Cannabis" [Kaiser Health News]. ""Dogs will get into anything and everything," said veterinarian Dorrie Black of the San Francisco-based veterinary clinic Animal Internal Medicine and Specialty Services… As weed has become easier for people to get, it has also become a hazard for dogs. Black said dogs ingest marijuana by eating the remainder of a joint, or getting into someone's edible marijuana, either at home, on the street or in parks." • Plus other details, including the word "poop." (Has that word become so prevalent because of our increasing homeless population?
Games
Not strictly about games, but anime and games seem to overlap….
"Neon Genesis Evangelion is the perfect story for this moment in history" [The Verge]. "Neon Genesis Evangelion has returned for a second life on Netflix, legally available for the first time in a couple decades. Watching Neon Genesis Evangelion in 2019 is fascinating for a number of reasons — namely, seeing what a new generation of people will make of the show — but the most interesting is the new world it's been released back into. The anime was always apt, but in the two decades since the original series was first broadcast on TV Tokyo, it's become the ideal anime for our time; thematically, the series is about the awful courage needed to stop an oncoming apocalypse, and what the people charged with protecting everyone else are obliged to cope with." • Seems a propos…
"Animé or Something Like it: Neon Genesis Evangelion" [InterCommunication]. The lead"
Basically this is the absurd story of a meaningless battle that takes place while riding on a puzzling machine against an equally puzzling enemy. The scene is the near future of 2015 in the 3rd City of Tokyo which is located at the foot of Mt. Fuji. The beings called "Angel" who were each crowned as Old Testament angels, relentlessly go on the offensive against the 3rd City of Tokyo. The purpose of the offensive and the true identity of the angels are totally unknown… Each [protagonist] has a trauma and not being adept at communicating with others humans, rather than humanity, etc. they consider internal existential questions such as "Why do we do battle with the Angels?, why do we ride [Evangelions]?" more imporant. Therefore the production mainly focuses on character psychology.
That's about as far as I could make sense of the post, though I read a lot more. Animé fans can translate. What I did manage to get is that the series seems to change partway through, in a way that Evangelion fans take as seriously as the changes in the last episodes of Game of Thrones.
* * *
"Zork And The Z-Machine: Bringing The Mainframe To 8-bit Home Computers" [Hackaday]. The conclusion: "If you haven't played Zork in a while, or ever, give it a spin and then have a look under the hood. It's not a stretch to say that a group of hackers at US universities during the 1970s have very likely defined the world of video gaming and interactive story telling." • Real software engineering. Totally neat!
Guillotine Watch
"Literature Review: Conservative Philanthropy in Higher Education" [Urban Institute]. • "Philanthropy" my Sweet Aunt Fanny. More like philonomisma (a word I just coined). Making sure money grows, taking care of it, grooming and buffing it, and so forth.
Class Warfare
"The Masses Against the Classes, or, How to talk about populism without talking about class" [Nonsite.org]. One nugget: "A new black bourgeoisie, headed by improvers such as Booker T. Washington, were equally unenthusiastic about the prospect of poor blacks revolting against their superiors. As they saw it, such action endangered the precarious peace secured by the 1877 'New South' settlement, which allowed for black improvement in the margins. At his educational institute in Tuskegee, Washington pleaded to Southern blacks to "keep out of politics (and) make any concession consistently with manhood….Let the white men know you are glad you are a Negro. Don't push, but be proud of your blood." Black elites' reticence to assist black working-class agitation had a fatal effect on the 1891 Cotton Pickers' Strike." • Sigh.
"The "Right" and "Wrong" Kind of Artificial Intelligence for Labor Markets" [Conversable Economist]. "Do we need to view the effects of technology on jobs as a sort of tornado blowing through the labor market? Or could we come to understand why some technologies have bigger effects on creating jobs, or supplementing existing jobs, than on replacing job–and maybe even give greater encouragement to those kinds of technologies?" • Useful examples of machine learning.
"New Texas law protects rent-to-own customers against criminal prosecution" [Texas Tribune (MF)]. "Texans who sign rent-to-own contracts to lease furniture, electronics and other household items will receive new protection against being arrested or criminally prosecuted if they renege on the terms… 'Folks were getting charged with felonies when they weren't really aware' that was a risk, [state Rep. Charles "Doc" Anderson, R-Waco] said. 'You have a $500 couch, $600 couch or something on that order, and you end up with police knocking on your door.'"
News of the Wired
Epic Trolling (1):
Belle Delphine said if she got 1M likes on an insta photo she'd start a pornhub. Nearly 2M thirsty teen boys liked it. She made a pornhub but it's just video of her playing with stuffed cats. And now every teenage memer on insta is having a meltdown

— Taylor Lorenz (@TaylorLorenz) June 20, 2019
Epic Trolling (2):
Ive gotten word that certain people on here are "Doing it for the clicks" . Rest assured that i will never do it for the clicks

— wint (@dril) June 23, 2019
* * *
Readers, feel free to contact me at lambert [UNDERSCORE] strether [DOT] corrente [AT] yahoo [DOT] com, with (a) links, and even better (b) sources I should curate regularly, (c) how to send me a check if you are allergic to PayPal, and (d) to find out how to send me images of plants. Vegetables are fine! Fungi are deemed to be honorary plants! If you want your handle to appear as a credit, please place it at the start of your mail in parentheses: (thus). Otherwise, I will anonymize by using your initials. See the previous Water Cooler (with plant) here. Today's plant (Re silC):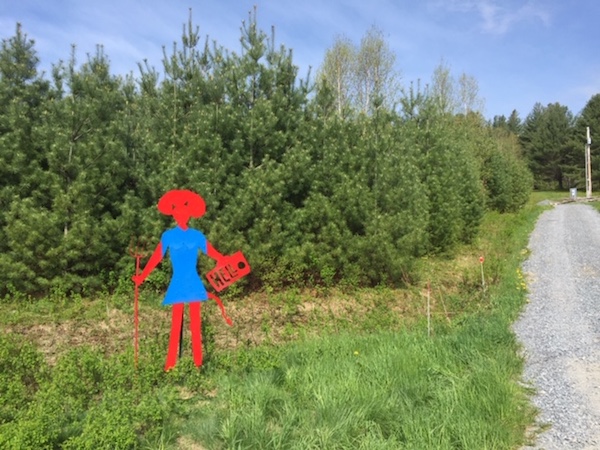 The paving on that road isn't all it could be….
* * *
Readers: Water Cooler is a standalone entity not covered by the annual NC fundraiser. So do feel free to make a contribution today or any day. Here is why: Regular positive feedback both makes me feel good and lets me know I'm on the right track with coverage. When I get no donations for five or ten days I get worried. More tangibly, a constant trickle of small donations helps me with expenses, and I factor in that trickle when setting fundraising goals. So if you see something you especially appreciate, do feel free to click this donate button:
Here is the screen that will appear, which I have helpfully annotated.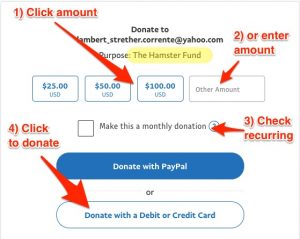 If you hate PayPal, you can email me at lambert [UNDERSCORE] strether [DOT] corrente [AT] yahoo [DOT] com, and I will give you directions on how to send a check. Thank you!