By Lambert Strether of Corrente.
Patient readers, I'll have more in a bit; my brunch was a little too long and a little too liquid. But also, my news harvest, once I throw out the hysteria and the non-stories about stuff that might happen, is oddly thin; oddly because California is literally on fire, and much of the world metaphorically so (because of the global protests). It's quiet. Too quiet. –lambert
Politics
"But what is government itself, but the greatest of all reflections on human nature?" –James Madison, Federalist 51
"They had one weapon left and both knew it: treachery." –Frank Herbert, Dune
* * *
2020
Alert reader dk (not to be confused with DK) is in the process of developing the following interactive chart. Here is (are) the latest Dem Primary Polling as of 10/29/2019, 12:00 PM EDT:

I went to the daily instead of a 7-day average (for now) to see what was happening with Biden. He's back up, at least according to Morning Consult. And here are the poll results, as of 10/29/2019, 12:00 PM EDT.

Finally a new poll! The Biden juggernaut rolls on, Sanders and Warren are tied.

I think dk has started a really neat project, and in the near future we'll seek your feedback (within reason) for the tool "live."

* * *

Biden (D)(1): "How Biden Helped Strip Bankruptcy Protection From Millions Just Before a Recession" [GQ]. "[BAPCPA (bankruptcy "reform")] overwhelmingly passed with Biden's support—while bankruptcy reform had been dead on arrival just a few years earlier, 18 Senate Democrats chose to side with all 55 Republicans and the lone independent [Jeffords, not Sanders] to vote in favor of the bill. Then president George W. Bush promptly signed it into law, and 14 years later BAPCPA is still making it more costly and cumbersome to declare bankruptcy. With the U.S. likely heading for another recession and credit card debt at a record $870 billion, millions more Americans could end up struggling with mountains of debt than they would otherwise had Biden not fought so hard to strip them of bankruptcy protection." • Thanks, Joe. Well worth a read!

Gabbard (D)(1): "All in the Family: The American Sangh's affair with Tulsi Gabbard" [Caravan]. "Gabbard's rise in US politics came out of nowhere, and is inexplicable until one considers how Sangh donations gave her a leg up when she was a virtual unknown. The first Indian-American donors to her first congressional campaign—who were also among the first non-Hawaiians to support her—are top executives in RSS affiliates in the United States. Donor names provided in filings to the Federal Election Commission, which I collated with lists from Sangh websites and promotional materials as well as media reports, reveal that hundreds of leaders and members of such groups gave hundreds of thousands of dollars to Gabbard in the formative years of her congressional career." • RSS = "Rashtriya Swayamsevak Sangh—the parent organisation of India's ruling Bharatiya Janata Party." • I don't know if "inexplicable" is fair, because Gabbard is talented. Dunno about the BJP, though.

Sanders (D)(1): "Sanders endorsed by Tlaib at Detroit rally knocking corporate greed" [Michigan Advance]. Tlaib: "We deserve a president who understands that the corporate assault on our lives existed before Trump, and it will exist after Trump. Someone who will never back down from a fight with the wealthy and the powerful, who will call them out and will bring our movement to their front yards. Someone who looks at a problem and finds the most transformative solutions, who isn't constrained by the corporate conventional wisdom of what's possible or worth fighting for. … We deserve someone who writes the damn bills. We deserve Bernie Sanders."
Pollsters
Latest NH poll (and it's just one poll):

I'm live blogging our NH poll btw. Needless to say it's a mess with Sanders at 21, Warren at 18, Biden at 15, Buttigieg at 10, and then three more at 5%. https://t.co/FjToP3tOuG

— (((Harry Enten))) (@ForecasterEnten) October 29, 2019

"A mess." Now, why would you say that, Harry? About your own poll?
Realignment and Legitimacy
"Romney, Manchin want new rescue committees to address trust fund solvency" [Roll Call]. "Sen. Mitt Romney is leading a new bipartisan effort to try to force lawmakers to come together to address looming funding shortfalls in several government trust funds. In a draft bill shared first with CQ Roll Call, a bipartisan contingent led by the Utah Republican wants to establish "Rescue Committees" to write legislation providing 75 years of solvency for trust funds identified in a report to Congress from the Treasury Department. Examples of funds that would likely qualify include Social Security and the Highway Trust Fund. Backing the effort in the Senate are three of the most moderate members of the Democratic caucus: Sens. Joe Manchin III of West Virginia, Kyrsten Sinema of Arizona and Doug Jones of Alabama, along with Republican Sen. Todd Young of Indiana." • Awesome. Sanders, with Kelton as his advisor, had the opportunity to loosen the grip of "pay for" on the throat of the Federal Government, and didn't. Warren not only hasn't, she's strengthening it. And here come the "moderates," putting the Grand Bargain back into play!
Stats Watch
Consumer Confidence, October 2019: "For a second straight month, limited erosion in the consumer's assessment of the labor market held down the Conference Board's index" [Econoday]. "Those saying jobs currently are hard to get rose …. in a closely watched reading, however, that is offset by a …. rise in those saying jobs are plentiful, now at 46.9 percent. Yet the outlook for jobs is clearly down, though only modestly… In yet another mixed signal, expectations for future income, which are largely based on job prospects as well as the outlook for the stock market, held solid… Business conditions are described as favorable to flat, both now and in the future… Today's report is more mixed than unfavorable."
S&P Corelogic Case-Shiller Home Price Index, August 2019: "Home prices failed to improve in August, showing disappointing results" [Econoday]. "These two reports offer definitive data but they do lag, and other indications on home prices have recently been picking up. Nevertheless, August's Case-Shiller and FHFA results are a reminder that sales of existing homes, though improving from last year, have been struggling to move higher."
Pending Home Sales Index, September 2019: "[A] sharp and better-than-expected" rise [Econoday].
Real Estate: "A multibillion-dollar space race is under way in the warehouse market. Real-estate heavyweight Prologis Inc. is raising the stakes with its $12.6 billion acquisition of Liberty Property Trust and its 107 million square feet of logistics space…. capping a series of buys that come as private-equity firm Blackstone Group is pushing into the market" [Wall Street Journal]. "The buy will push Prologis past the 800 million square feet of warehouse space Blackstone holds. The scale suggests the companies may be looking to offer customers bigger agreements that stretch across different regional markets involving multiple warehouses. Reports show the U.S. logistics real-estate market remains tight after several years of high demand driven by e-commerce growth, with a growing premium on more expensive real estate close to population centers. It turns out that the more consumers go online, the more demand there is for physical warehouse space." • I imagine the next step will be to turn the warehouses back into brick-and-mortar stores.
Manufacturing: "Lawmaker blames investors for Boeing's race to sell troubled 737 Max: 'This all starts on Wall Street'" [CNBC]. "Investors pressured Boeing to quickly build its fuel-efficient 737 Max planes to top European rival Airbus, a key lawmaker said before the manufacturer's CEO appears before Congress on two fatal crashes of the beleaguered planes. 'This all starts on Wall Street,' Rep. Peter DeFazio, an Oregon Democrat and chair of the House Committee on Transportation and Infrastructure."
Manufacturing: "'Why Is This Airplane Still Flying?' The FAA Missteps That Kept Boeing's MAX Aloft" [Wall Street Journal]. "Just after a Boeing Co. 737 MAX jet crashed in Indonesia a year ago, FAA officials asked themselves: Should they warn the world the entire fleet could have a design flaw? A Federal Aviation Administration analysis showed a good chance the same malfunction would crop up again, according to agency officials and people briefed on the results. Even under the most optimistic scenario, the agency's statistical models projected a high likelihood of a similar emergency within roughly a year." • Very good reporting from the WSJ, well worth a read.
Manufacturing: "FAA admin. on Boeing 737 Max: We're still deciding 'when, whether' plane will fly again" [Steve Dickson, USA Today]. "The FAA is fully committed to address all of the recommendations raised by investigators, including those that pertain to when, whether or how the 737 Max will return to service. As we have said repeatedly, the aircraft will fly only after we determine it is safe." • Dickson is the administrator of the FAA.
Manufacturing: "Congress is accountable in Boeing MAX crisis, too" [Leeham News & Analysis]. "Year after year after year, Congress does not properly fund the FAA in order for it to do its work. It doesn't give the FAA the money or the human resources or expertise to do its work." • Correct!
Manufacturing: "I'm not Boeing anywhere near that: Coder whizz heads off jumbo-sized maintenance snafu" [The Register]. Really a tech doc war story about the 747: "After about 30 pages I reached a page where my Windows app showed more data than the RS6000 app. I had two extra diagrams and an extra paragraph of text. Clicking through the thousands of pages I found more places where my app showed extra diagrams and text." • Hoo boy. The culprit: "'After a few days of debugging,' Pete told us, 'it turned out [to be] an optimisation bug in the IBM C compiler used on the RS6000. It was overwriting registers that were being used to store local C variables when the call stack got too deep.' Thus not all the text and diagrams were being displayed." • BWA-HA-HA-HA! Premature optimization is the root of all evil.
Supply Chain: "There may be a national dish soap shortage, but it's hard to tell until someone comes clean. Retailer Walmart Inc. recently posted signs in many of its stores warning that it faces a "national supply shortage" of the products even though shelves were fully stocked" [Wall Street Journal]. "The warnings came after Procter & Gamble Co. said it hadn't made enough Dawn and Gain dish soap. That's led to confusion in store aisles since rival retailers say they have plenty of soap on hand, highlighting how supply chains hiccups can affect the fiercely competitive consumer goods sector. Walmart is a larger seller of P&G products than any other retailer, so any supply shortages could hit the company harder. Walmart also strains to keep inventories tight to operate more efficiently, which can also leave its stores more exposed to supply chain disruptions."
* * *
Today's Fear & Greed Index: 72 Greed (previous close: 67, Greed) [CNN]. One week ago: 59 (Greed). (0 is Extreme Fear; 100 is Extreme Greed). Last updated Oct 29 at 12:41pm.
News of the Wired
"You can buy a piece of Steve Jobs' turtleneck — in an iPhone" [New York Post]. • Holy relics, ffs.
"The 2010s Broke Our Sense Of Time" [Buzzfeed]. "In the 20 months between Hillary Clinton's campaign announcement and Trump's inauguration, everything from Apple Music to HBO Now to Apple News launched or relaunched; the Amazon Echo, Google Home, and Apple Watch hit the full market; publishers established the current form and tone of the news push alerts that you receive; Facebook launched a livestreaming function and then deprioritized the function when people aired violence; Instagram launched the ephemeral, inexhaustive stories, so you can share — as they put it — "everything in between" the moments you care about; Twitter introduced the quote-tweet option, which formalized and democratized a function from the earlier days of Twitter, and transformed every Trump tweet into an opportunity for commentary." • The method for restoring one's sense of linear time, therefore, is to avoid Apple Music, Apple News, Apple Watch, HBO, Amazon Echo, Google Home, Facebook, and Instagram. Turn off all push alerts. Which I have done. Oh, and make sure your Twitter feed, if you have one, is set to "Latest Tweets Appear as They Happen," which turns of the algo. Easy peasy.
"The ethics of algorithms: Mapping the debate" [Big Data and Society]. "Determining the potential and actual ethical impact of an algorithm is difficult for many reasons. Identifying the influence of human subjectivity in algorithm design and configuration often requires investigation of long-term, multi-user development processes. Even with sufficient resources, problems and underlying values will often not be apparent until a problematic use case arises. Learning algorithms, often quoted as the 'future' of algorithms and analytics (Tutt, 2016), introduce uncertainty over how and why decisions are made due to their capacity to tweak operational parameters and decision-making rules 'in the wild' (Burrell, 2016). Determining whether a particular problematic decision is merely a one-off 'bug' or evidence of a systemic failure or bias may be impossible (or at least highly difficult) with poorly interpretable and predictable learning algorithms. Such challenges are set to grow, as algorithms increase in complexity and interact with each other's outputs to take decisions (Tutt, 2016). The resulting gap between the design and operation of algorithms and our understanding of their ethical implications can have severe consequences affecting individuals, groups and whole segments of a society." • Butlerian Jihaad getting more attractive all the time…
* * *
Readers, feel free to contact me at lambert [UNDERSCORE] strether [DOT] corrente [AT] yahoo [DOT] com, with (a) links, and even better (b) sources I should curate regularly, (c) how to send me a check if you are allergic to PayPal, and (d) to find out how to send me images of plants. Vegetables are fine! Fungi and coral are deemed to be honorary plants! If you want your handle to appear as a credit, please place it at the start of your mail in parentheses: (thus). Otherwise, I will anonymize by using your initials. See the previous Water Cooler (with plant) here. Today's plant (TH):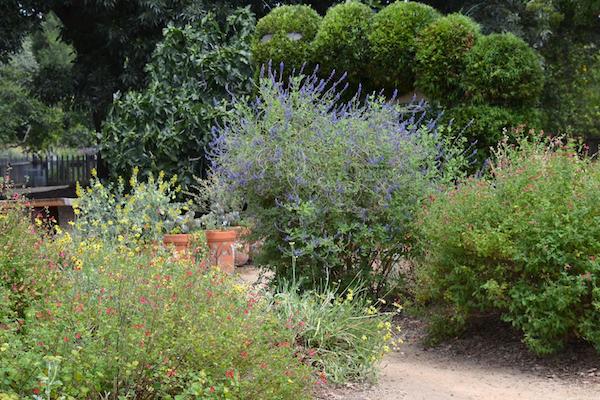 Th writes: "Wish my garden looked like the Fullerton Arboretum. (Except for the bush that looks like it's wearing sunglasses—what's going on there? Kind of creepy)."
* * *
Readers: Water Cooler is a standalone entity not covered by the annual NC fundraiser. So if you see a link you especially like, or an item you wouldn't see anywhere else, please do not hesitate to express your appreciation in tangible form. Remember, a tip jar is for tipping! Regular positive feedback both makes me feel good and lets me know I'm on the right track with coverage. When I get no donations for five or ten days I get worried. More tangibly, a constant trickle of donations helps me with expenses, and I factor in that trickle when setting fundraising goals:
Here is the screen that will appear, which I have helpfully annotated.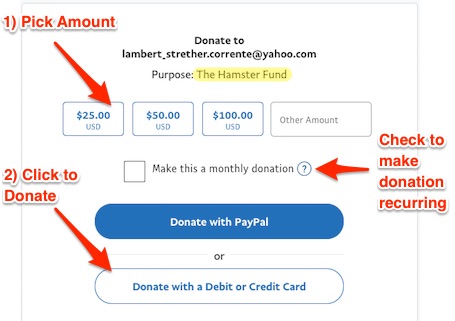 If you hate PayPal, you can email me at lambert [UNDERSCORE] strether [DOT] corrente [AT] yahoo [DOT] com, and I will give you directions on how to send a check. Thank you!