By Lambert Strether of Corrente.
Bird Song of the Day
I think I'll continue along with thrushes. A lot going on in this one!
* * *
#COVID19
At reader request, I've added this daily chart from 91-DIVOC. The data is the Johns Hopkins CSSE data. Here is the site.
I feel I'm engaging in a macabre form of tape-watching. I've been thinking of new charts to monitor to alert us to the next outbreak, assuming there is one, but for now, the data from the South means I'll stick to the status quo.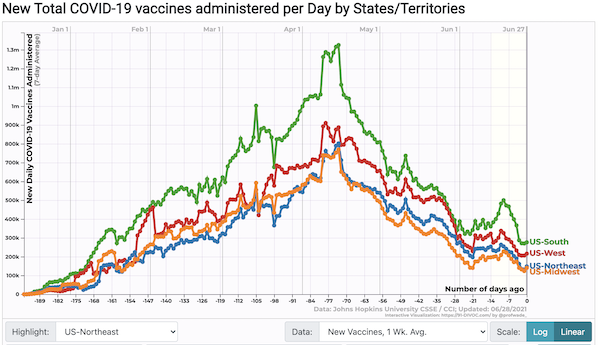 Now all rising together. Kamala did the trick? Hard to believe.
Case count by United States regions: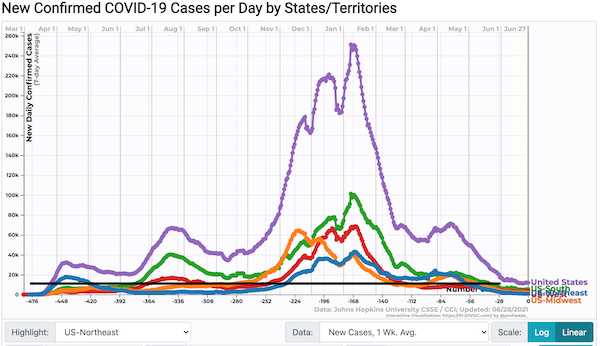 Decline now flattening. Delta? See World, below. (The increase in Delta would still swamped by the decrease in Alpha, etc. For awhile.)
Here are the case counts for the last four weeks in the South (as defined by the US Census: Alabama, Arkansas, Delaware, Florida, Georgia, Kentucky, Louisiana, Maryland, Mississippi, North Carolina, Oklahoma, South Carolina, Tennessee, Texas, Virginia, West Virginia, and the District of Columbia):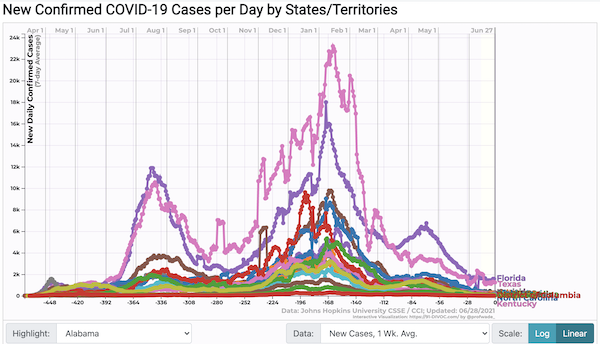 Texas and Florida, capital of Latin America, neck and neck.
Covid cases top ten (hat tip, alert reader Lou Anton):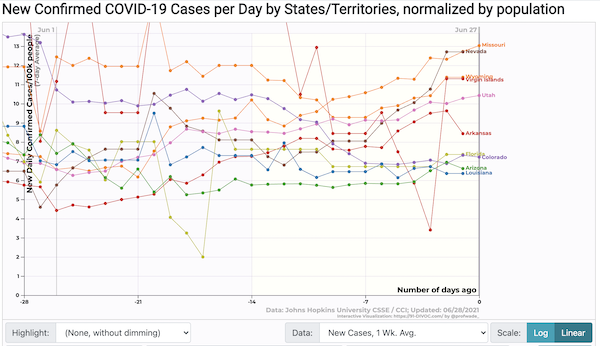 Tourist states disproportionately represented, IMNSHO. Readers? (I'm replacing the big states (NY, FL, TX, CA) with this one.)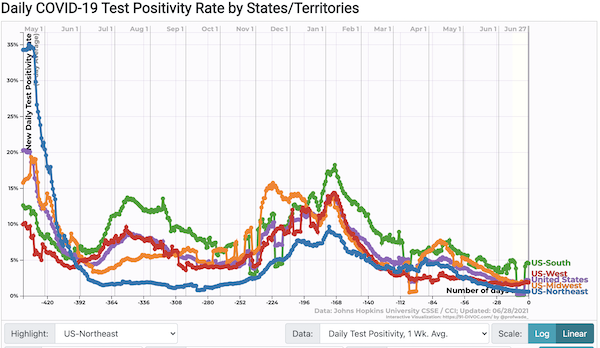 South bounces back.
Hospitalization (CDC):
"Unavailable due to system maintenance."
Deaths (Our World in Data):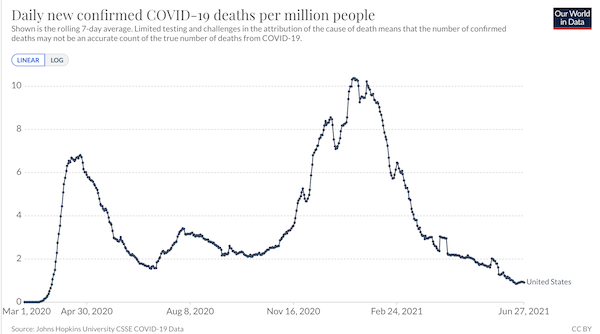 Continued good news.
Covid cases worldwide: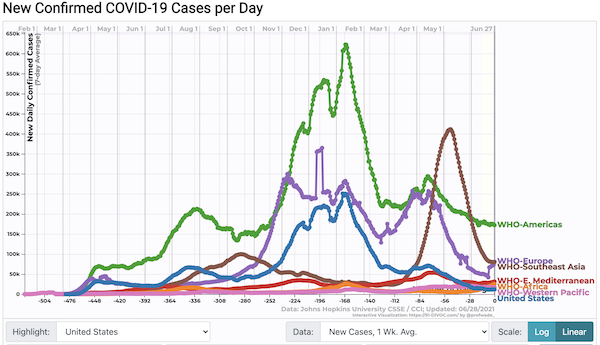 Big jump in Europe. Delta?
* * *
Politics
"But what is government itself, but the greatest of all reflections on human nature?" –James Madison, Federalist 51
"They had one weapon left and both knew it: treachery." –Frank Herbert, Dune
"They had learned nothing, and forgotten nothing." –Charles Maurice de Talleyrand-Périgord
Capitol Seizure
"Donald Trump's January 6 The view from inside the Oval Office." [New York Magazine]. "'I didn't mean it literally,' Trump said." • A timeline of events.
Biden Administration
"America's Defense Industry Is A Corrupt, Incompetent Mess" [The American Conservative]. "The Lockheed Corporation, predecessor to the F-35's embattled designer Lockheed Martin, was responsible for building some of the most impressive aircraft in history. Lockheed's Advanced Development Projects, nicknamed "Skunk Works" as a reference to a 1940s comic strip, built aircraft that played a pivotal role in countering the Soviet Union during the Cold War. The F-80 Shooting Star was the first jet fighter to shoot down another jet, a Soviet MiG-15 fighter over Korea. The ultra-lightweight U-2 reconnaissance aircraft flew high over Soviet territory, taking photographs of military installations from up to 80,000 feet and evading early surface-to-air missiles. The A-12 and SR-71 spy planes added extreme speed to extreme altitude, blazing past Soviet air defenses at up to three times the speed of sound. Skunk Works was effective because its top-notch engineers were allowed to operate with relative freedom from Lockheed's bureaucracy and management constraints, and even encouraged to bypass standard procedures when necessary. Today, you'd be hard-pressed to find that same can-do American spirit at Lockheed Martin. According to a former employee, the F-35 project has become as much a jobs program as a national defense priority. And the Project On Government Oversight has extensively reported on Lockheed Martin's incompetence and corruption throughout the two-decade-long program. If Lockheed Martin were a serious organization as it was during the Cold War, it wouldn't operate like this. And if the Department of Defense were run by serious people, it wouldn't allow defense contractors to engage in fraud, waste, and abuse on this scale. Lockheed Martin might be drawing the most fire right now over the F-35, but the company's behavior is emblematic of a defense establishment with severely distorted priorities. So it's time to put it all on the chopping block."
2022
"Transgender student wins bathroom battle after Supreme Court rejects school board appeal" [ABC]. "A transgender man from Virginia has won a years-long legal battle against his former high school over its refusal to let him use boys bathrooms when he was a student. The U.S. Supreme Court Monday rejected the Glouchester County School Board's appeal of a lower court decision that found its transgender bathroom ban is unconstitutional…. 'The decision to deny certorari affirms that transgender students are protected by Title IX,' said Alphonso David, Human Rights Campaign President. 'Everyone has the right to high-quality, public education without the fear of being discriminated against simply for being brave enough to show up as you truly are. This is a battle Gavin Grimm has been fighting for over four years—we are grateful that his resilience, courage and determination has finally been rewarded.'" • Well, the themes for Campaign 2022 are shaping up nicely: Bathrooms, cops, and Critical Race Theory.
Realignment and Legitimacy
"The Mayor's Race Isn't (Quite) Decided Yet" [New York Magazine]. From last week, but the voter breakdown is interesting: "this election is very much Adams's race to lose. Wiley's support came largely from gentrifying areas of Queens and Brooklyn, her best precincts running in nearly a straight line down the waterfront from Astoria to Red Hook, but she also did well in northern Manhattan, places where Adams also ran strong. Many voters in those areas who picked Wiley as their No. 1 choice very likely chose Adams as their No. 2. The Garcia vote is more distinct. She dominated in Manhattan below 96th Street and picked up support in conservative white ethnic areas in outer Queens and outer Brooklyn and on parts of Staten Island. Her alliance with Andrew Yang over the last several days of the race, in which they campaigned across the city and passed out literature with both of them on it, will surely help her. Yang got just under 12 percent of the vote. With his fervent base of support following his cues, she is expected to pick up more than two-thirds of his vote, which would close the gap with Adams significantly."
Stats Watch
Manufacturing: "United States Dallas Fed Manufacturing Index" [Trading Economics]. "The Federal Reserve Bank of Dallas' general business activity index for manufacturing in Texas decreased by 3.8 points from the previous month to 31.1 in June 2021, moving further away from April's near three-year high of 37.3 but notably higher than its series average of 2.8 and indicative of greater activity. The production index, a key measure of state manufacturing conditions, rose 13.7 points to 29.4, reflecting strong output expansion."
* * *
Housing: "High Housing Valuations Move Inland" [Federal Reserve Bank of St. Louis]. "In the current housing boom, three of the five divisions with average housing valuations above the national average are inland—namely, the Mountain, West North Central and West South Central divisions. Even more striking, average housing valuations in all five inland divisions are higher now relative to the national average than they were at the peak of the previous housing boom. Conversely, average housing valuations in all four coastal divisions are lower now relative to the national average than they were at the previous boom's peak. Thus, compared to last time, the housing boom has moved inland."
Manufacturing: "Citing a serious flight test incident and lack of design maturity, FAA slows Boeing 777X certification" [Seattle Times]. "The FAA cited a long litany of concerns, including a serious flight control incident during a test flight on Dec. 8, 2020, when the plane experienced — meaning the nose of the aircraft pitched abruptly up or down without input from the pilots. Boeing has yet to satisfy the FAA that it has fully understood and corrected what went wrong that day. The letter was signed by Ian Won, the manager of the local FAA office that judges whether Boeing has met all regulatory standards. He also told Boeing that a critical avionics system proposed for the airplane does not meet requirements. And he expressed concern about proposed modifications involving late changes to both software and hardware in the electronics of the jet's flight controls. ',' Won wrote. '' An FAA official, who asked not to be identified in order to speak freely, said the drag on 777X certification is now 'the subject of a lot of attention' at high levels both within the agency and at Boeing." • "Now." Only now?
The Bezzle: "Michelin-starred restaurants touted this caviar as the best in local, sustainable products. But it wasn't what it seemed" [San Francisco Chronicle]. "For years, chefs at some of the Bay Area's most lauded three-Michelin-starred restaurants have proudly worked with a celebrated seafood farm just outside Sacramento called Passmore. They've plated the ranch's caviar atop delicate egg custard and decorated its smoked sturgeon with wild strawberries for customers who pay more than $300 for the privilege of eating the best — including what they thought was hand-raised, sustainable product from Passmore. But now, some chefs are severing ties with the farm as its founder, Michael Passmore, tries to explain why much of the fish he sells isn't actually raised on the farm — and that Passmore hasn't produced any caviar in more than two years. Instead, the company has been buying the prized cured sturgeon roe from countries like France and China and repackaging it as its own….. The revelations are the latest episode in a series of high-profile incidents in the food and restaurant industry involving businesses sourcing ingredients that don't align with their farm-to-table missions. This year, the New York Times reported that famed Pacific Northwest restaurant Willows Inn routinely bought produce from supermarkets that staff told diners was grown on the restaurant's own farm. (The chef denied the allegations.) In May, Bay Area-born sustainable meat company Belcampo admitted to mislabeling some meats as Belcampo-raised products when, in fact, they were purchased elsewhere. Perhaps most explosive was a monthslong investigation by the Tampa Bay (Fla.) Times in 2016 that found many popular farm-to-table restaurants weren't working with local farms at all." • Fraud, fraud, fraud, fraud. If there were no newspapers, we could eat in blissful ignorance!
The Bezzle: "U.K. Financial Regulator Bars Crypto Exchange Binance Markets" [Bloomberg]. "The U.K.'s financial watchdog just took one of the most significant regulatory moves to date against a crytocurrency exchange as global scrutiny of the industry hardens. Binance Markets Ltd., an affiliate of top global crypto bourse Binance, was told by the Financial Conduct Authority it has until the evening of June 30 to confirm it has removed all advertising and financial promotions, according to the authority's register. The exchange must also make clear on its website, social media channels and all other communications that it's no longer permitted to operate in the U.K. Binance Markets won't be able to resume U.K. operations without prior written consent….. The move extends a regulatory crackdown on the cryptocurrency sector amid concerns about its potential involvement in money laundering and fraud…. A "significantly high" number of cryptoasset businesses aren't meeting the required standards under the money laundering regulations, which has resulted in an unprecedented number of businesses withdrawing their applications, an FCA spokesperson said." • If it's too whiffy for the UK….
* * *
Today's Fear & Greed Index: 42 Fear (previous close: 44 Fear) [CNN]. One week ago: 33 (Fear). (0 is Extreme Fear; 100 is Extreme Greed). Last updated Jun 28 at 12:05pm,
Rapture Index: Closes down one on earthquakes. "It has been several months since a quake has caused major damage in any zone" [Rapture Ready]. Record High, October 10, 2016: 189. Current: 186 (Remember that bringing on the rapture is a good thing, so high is better.)
The Biosphere
"How ancient people fell in love with bread, beer and other carbs" [Nature]. "On a clear day, the view from the ruins of Göbekli Tepe stretches across southern Turkey all the way to the Syrian border some 50 kilometres away. At 11,600 years old, this mountaintop archaeological site has been described as the world's oldest temple — so ancient, in fact, that its T-shaped pillars and circular enclosures pre-date pottery in the Middle East…. The people who built these monumental structures were living just before a major transition in human history: the Neolithic revolution, when humans began farming and domesticating crops and animals. But there are no signs of domesticated grain at Göbekli Tepe, suggesting that its residents hadn't yet made the leap to farming. The ample animal bones found in the ruins prove that the people living there were accomplished hunters, and there are signs of massive feasts. Archaeologists have suggested that mobile bands of hunter-gatherers from all across the region came together at times for huge barbecues, and that these meaty feasts led them to build the impressive stone structures. Now that view is changing, thanks to researchers such as Laura Dietrich at the German Archaeological Institute in Berlin. Over the past four years, Dietrich has discovered that the people who built these ancient structures were fuelled by vat-fulls of porridge and stew, made from grain that the ancient residents had ground and processed on an almost industrial scale1. The clues from Göbekli Tepe reveal that ancient humans relied on grains much earlier than was previously thought — even before there is evidence that these plants were domesticated. And Dietrich's work is part of a growing movement to take a closer look at the role that grains and other starches had in the diet of people in the past." • Shorter: Not meat. Beer!
Our Famously Free Press
Hmm:
regarding the "Trusted News Initiative" and censorship of information regarding COVID vaccine safety, please be aware of the link between Pfizer and Reuters. I would call that a journalistic conflict of interest. What do you think? pic.twitter.com/qQCysxnPX6

— Robert W Malone, MD (@RWMaloneMD) June 28, 2021
(Malone is Inventor of mRNA vaccines and RNA as a drug.) Smith is also a member of the World Economic Forum's Partnering Against Corruption Initiative (!) and a member of the Atlantic Council. Perhaps one way to look at our elites is that they are one and all entangled in dense networks of conflicted interests; Malone has seen one pattern woven into the rug, but the entire rug is woven of the same kind of pattern, although with different threads. And in some ways, it's all perfectly normal; board membership is a perk, when you reach a certain level. And speaking of Reuters–
"US ranks last among 46 countries in trust in media, Reuters Institute report finds" [Poynter Institute]. "The United States ranks last in media trust — at 29% — among 92,000 news consumers surveyed in 46 countries, a report released Wednesday found. That's worse than Poland, worse than the Philippines, worse than Peru. (Finland leads at 65%.) The annual digital news report from the Reuters Institute for the Study of Journalism at Oxford also found some improvement in trust in nearly all the countries surveyed — probably thanks to COVID-19 coverage — but not in the U.S. where the low rating was flat year to year." • Various explanations, most speculative, none including self-criticism on content (WMDs, RussiaGate, etc.).
But when it happens, trust is a beautiful thing:
Yesterday the New York Times ran a full-page house ad promoting their Wirecutter section's deal recommendations for Prime Day.

No need for Amazon to buy its own ads when it has the NYT running them for free. pic.twitter.com/M7k5KpEhpS

— Matt Stoller (@matthewstoller) June 21, 2021
"Mike Gravel, Unconventional Two-Term Alaska Senator, Dies at 91" [New York Times]. "Mike Gravel, a two-term Democratic senator from Alaska who played a central role in 1970s legislation to build the Trans-Alaska oil pipeline but who was and later mounting long-shot presidential runs, died on Saturday at his home in Seaside, Calif. He was 91." • The Times wouldn't know a principled act if it bit them in their assets.
"BuzzFeed announces plans to go public via SPAC, targets $1.5 billion valuation" [CNBC]. "The company, merging with 890 Fifth Avenue Partners, is targeting a $1.5 billion valuation. The deal is expected to close in the fourth quarter. BuzzFeed also plans to acquire Complex Networks, a digital publisher that specializes in streetwear, music and culture, for $300 million. The deal is made up of $200 million in cash and $100 million of equity in BuzzFeed, the company said. It added it will 'immediately accelerate BuzzFeed's revenue growth.' The SPAC could help strengthen the company's position to acquire other digital media companies, BuzzFeed co-founder and chief Jonah Peretti told CNBC's 'TechCheck.' Peretti said there's a 'lot of other attractive opportunities out there.'"
"Fact check: Story about man arrested for putting fake arrows on Ikea floor began as satire" [USA Today]. "The posts appear to be poking fun at Ikea for its large warehouse and customers getting lost in the maze of all the showrooms. The circular design and one-way layout of the store is designed so that customers can't see what is coming next and fear that they will miss something that they need, according to The Conversation. Because of the difficulty of revisiting a certain item later in the shopping trip, customers are inclined to pick it up and put it in their cart… The story originated on a satirical website and the posts are making a joke out of Ikea's store layout." • Given the givens, it's hard to believe that there have been no copy-cats to the satire.
Hard to imagine the same comment, regendered, being applied to, say, James Clapper. But why?
The new media rules for when a person's conduct can, and cannot, be attributed to their race seems unsustainable to me.

— Glenn Greenwald (@ggreenwald) June 18, 2021
Games
Dungeon's and Dragons is "Midwestern Folk Art'? Thread:
D&D is a Midwestern folk art that accreted around a creative commons, its original curators were cheated of money or never legally acknowledged, and someday I'll be sued out of existence for printing the words "umber hulk," "carrion crawler," and "mind flayer."

— Aaron King (@aaronmfking) April 4, 2019
This is amazing! Can readers add any information?
Big Brother Is Watching You WatchFacebook is a modern-day Ohkrana. Quoting Hannah Arendt, The Origins of Totalitarianism:
[E]very suspect was noted on a large card in the center of which his name was surrounded by a red circle; his political friends were designated by smaller red circles and his nonpolitical acquaintances by green ones; brown circles indicated persons in contact with friends of the suspect but not known to him personally; cross-relationships between the suspect's friends, political and nonpolitical, and the friends of his friends were indicated by lines between the respective circles. Obviously the limitations of this method are set only by the size of the filing cards, and theoretically, a gigantic single sheet could show the relations and cross-relations of the entire population.
Facebook's social graph is that "gigantic single sheet"; the data structure is identical. Of course, you have to cross out "suspect" and write in "consumer" (or so we assume) but… no biggie. One might take some comfort in the face that the Ohkrana was ultimately a spectacular failure, although they might have done better if they hadn't been working for the Romanovs.
Poetry Nook
Sappho, fragment 16 (Mary Barnard translation):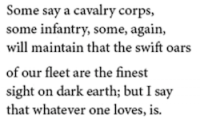 A more modern take:
Sappho frag. 16; personal translation pic.twitter.com/Dg4DurXIW0

— Cat Manning (🐅,✨) (@catacalypto) February 20, 2020
Zeitgeist Watch
How it started, how it's going:
tasteless, boring, probably irreversible pic.twitter.com/x72vhBzPDE

— Well There's Your Problem Podcast (@wtyppod) June 27, 2021
Class Warfare
"Climate, carbon and class" [Adam Tooze, Chartbook]. "….. Whatever our choice of terms, we can hardly avoid the conclusion that if there is to be an energy transition, under prevailing conditions (an assumption some may wish to challenge), it is this social class that must make it, simultaneously as decision-makers, consumers and investors. And it must be made across the entire world. ." • This is a must-read. Speaking of "can hardly be taken for granted":
A little insight into how Berkeley Fed President Mary Daly thinks about climate change ('our job is to navigate this uncertainty',) and on 'globalization' (great, except for all the 'collateral damage'.) https://t.co/vKL25DPLAC pic.twitter.com/jTLbC21Zho

— Rudy Havenstein, Airborne Clutter. (@RudyHavenstein) June 23, 2021
"Wealth Accumulation and Opportunity Hoarding: ClassOrigin Wealth Gaps over a Quarter of a Century in a Scandinavian Country" (PDF) [American Sociological Review]. "First, we find that class-origin wealth gaps have increased in recent years, whereas income inequalities are fairly persistent among men, and increasing among women. We find that educational attainment is important for channeling income inequality, but that education is less important for understanding wealth gaps. Second, we document differences between people whose family contexts were most highly endowed with economic capital and those who grew up in families that were engaged in cultural fields or the professions. Finally, we highlight how analyses based solely on net worth neglect important ways class origin perpetuates and accelerates wealth inequalities via the acquisition of debt. We argue that recent decades have fostered new instruments for opportunity hoarding that are most successfully used by the sons and daughters of the economic upper class." • "Opportunity hoarding" has a nice ring to it.
"Where Jobless Benefits Were Cut, Jobs Are Still Hard to Fill" [New York Times]. "The divide raises a fundamental question of what a healthy labor market looks like. Does it mean workers are on such a knife edge that they feel compelled to take the first job that comes along? Or is it one in which employers are the ones who have to scramble and feel pressured to raise wages and improve working conditions? Are the economy and the public better off when workers get to be choosy or when employers do? 'One way you might define normal is when employers and workers have the same idea of what an appropriate package looks like, and then the issue is matching up the people with the jobs,' said Katharine G. Abraham, an economist at the University of Maryland and a former commissioner at the Bureau of Labor Statistics. 'Clearly part of the problem now,' she said, 'is that what employers and what workers think is out of whack.'" • See, there's no such thing as class conflict.
"The foodies are back, but where are the workers?" [Sightlines]. "The table shows that the excess demand indicator for the U.S. is 11, and that nearly all the localities we looked at show excess demand for restaurants vs. the supply of potential restaurant workers. The localities currently facing the largest gaps between demand for restaurants and supply of restaurant workers are those local economies that rely strongly on and the provision of leisure/hospitality services—places like Palm Springs, New Orleans, Las Vegas, Virginia Beach, and yes, even the Outer Banks of North Carolina. Economic activity in these places was practically shut down during the pandemic, and while the demand side of the economy has quickly gone back to full speed with many visitors now fully vaccinated (56 percent of the US adult population as of June 21 according to the CDC), the supply side of the economy—fundamentally constrained by the available workforce—is unable to go from zero to 60 so fast."
"U.S. Unemployment Rescue Left at Least 9 Million Without Help" [Bloomberg]. "[A]t least 9 million Americans thrown out of work by the pandemic… didn't receive any unemployment benefits despite the largest deployment of economic aid in U.S. history, according to a Bloomberg Businessweek estimate based on a review of more than a year's worth of U.S. Department of Labor data. That's a hole in the safety net as big as the population of Virginia…. Half the 64.3 million people who sought help through the regular unemployment program from March 1, 2020, through March 31, 2021, were rejected or not paid, the data show. That's twice the rate during the Great Recession. … To be sure, the scale of the help has been remarkable. About 49 million workers—30% of the U.S. labor force—received at least one weekly payment, according to the data. More than $750 billion in unemployment benefits has been paid by the U.S. Treasury, compared with $28 billion in 2019. Yet this crisis has illustrated the system's frailties, including aging IT infrastructure, understaffed state agencies, and often arbitrary rules. The data also highlight stark differences among states. California paid more than 70% of claims for regular unemployment during the 13 months beginning in March 2020, while Montana didn't pay benefits to 89% of those who applied. The maximum payment ranges from $235 a week in Mississippi to $855 in Massachusetts. Almost all states offer 26 weeks of benefits in normal times, though in Alabama the limit is 14 weeks." • Cheer up. It's not nearly as bad as the health care system. And averages conceal:
Need to keep saying this: The fact that personal income remained at or above trend through the whole pandemic period is a huge policy success — should be the expectation for all recessions from now on. It's also an important reason to expect strong growth over next few years. pic.twitter.com/DVmi5BkWGv

— JW Mason (@JWMason1) June 25, 2021
"Do US firms have an incentive to comply with the FLSA and the NLRA?" [Petersen Institute for International Economics (!)]. "In the case of the [Fair Labor Standards Act (FLSA)] minimum wage and overtime provisions, typical willful violators are required to pay back wages owed and in some cases additional penalties, if detected by the Department of Labor (DOL). Based on available data on the penalties levied, a typical firm would need to expect a chance of at least 78-88 percent that its violation would be detected in order to have an incentive to comply with the FLSA. In practice, the probability of detection many firms can expect to face is likely much lower than this. In the case of the [National Labor Relations Act (NLRA)], a firm that fires a worker illegally is required to reinstate the worker with back pay if the violation is detected. Based on empirical estimates of the effect of unionization on firm profits, a typical firm may have an incentive to fire a worker illegally for union activities if this illegal firing would reduce the likelihood of unionization at the firm by as little as 0.15-2 percent. These analyses illustrate that neither the FLSA nor the NLRA penalty and enforcement regimes create sufficient incentive to comply for many firms. In this context, the substantial evidence of minimum wage and overtime violations, and of illegal employer behavior toward unions, is not surprising."
"What's so bad about critical race theory?" [Sam Kriss, Idiot Joy Showland (Temporarily Sane)]. "The movement that critical race theory broke from is critical legal studies, or CLS. Briefly, CLS argues that the law is not as it presents itself, an impersonal arbiter between equal persons, but instead exists to uphold structures of inequality within society. This is not a particularly novel insight…. Critical race theory has its own intellectual roots (more on that shortly), but its history as a movement is usually traced back to the CLS conferences of the mid to late 1980s. At the 1986 conference, a long and panicked spat broke out after participants were asked 'what is it about the whiteness of CLS that discourages participation by people of colour?'… If critical race theory's organisational history is grounded in the split from CLS, in its intellectual history it begins as a response to the perceived failure of the civil rights movement. Thanks to decades of activism, black Americans were legally identical to whites, formally equal in a system that now claimed to operate on a racially neutral basis – but for millions, things had simply not improved." • Hard to excerpt. Worth a read, and certainly better than the Quillette-inflected material out there.
News of the Wired
"Shakespeare's Sonnets" (podcast) [In Our Time]. • Don't cancel Shakespeare! When the Victorians bowdlerized the sonnets, they changed Shakespeare's pronouns! A fun podcast, full of close readings by knowledgeable scholars, although I have never heard a more spectacular misreading of Sonnet 130 ("My Mistress' Eyes are Nothing Like the Sun"). Agatha Christie, amazingly, said it best in Dumb Witness: "[The scientist,] Donaldson peered at [Poirot] through his pince-nez. 'I see no occasion to blink the truth. I love Theresa Arundell and I love her for what she is and not for any imagined qualities.'"
* * *
Readers, feel free to contact me at lambert [UNDERSCORE] strether [DOT] corrente [AT] yahoo [DOT] com, with (a) links, and even better (b) sources I should curate regularly, (c) how to send me a check if you are allergic to PayPal, and (d) to find out how to send me images of plants. Vegetables are fine! Fungi and coral are deemed to be honorary plants! If you want your handle to appear as a credit, please place it at the start of your mail in parentheses: (thus). Otherwise, I will anonymize by using your initials. See the previous Water Cooler (with plant) here. Today's plant (KP):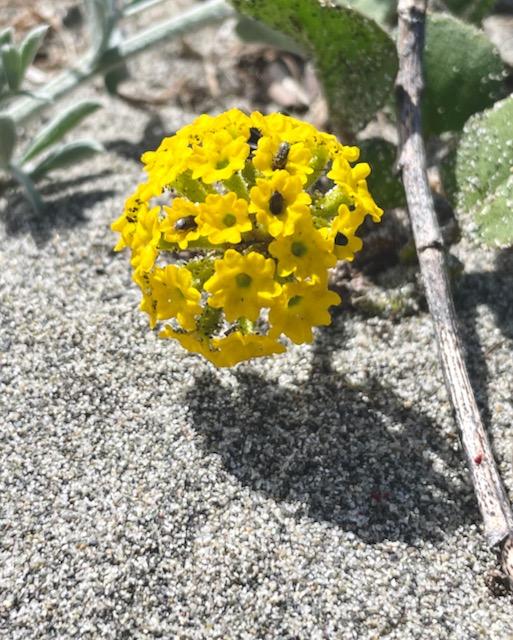 KP writes: "Here is a flower I found on the beach."
* * *
Readers: Water Cooler is a standalone entity not covered by the recently concluded and — thank you! — successful annual NC fundraiser. So if you see a link you especially like, or an item you wouldn't see anywhere else, please do not hesitate to express your appreciation in tangible form. Remember, a tip jar is for tipping! Regular positive feedback both makes me feel good and lets me know I'm on the right track with coverage. When I get no donations for five or ten days I get worried. More tangibly, a constant trickle of donations helps me with expenses, and I factor in that trickle when setting fundraising goals:
Here is the screen that will appear, which I have helpfully annotated.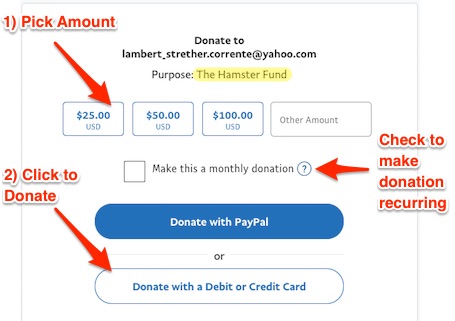 If you hate PayPal, you can email me at lambert [UNDERSCORE] strether [DOT] corrente [AT] yahoo [DOT] com, and I will give you directions on how to send a check. Thank you!2:00PM Water Cooler 6/8/2021